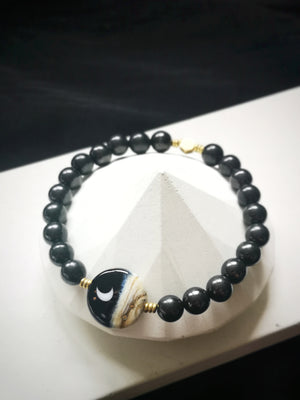 Magical Moonscape Shungite Bracelet
The lustrous beads on this magical bracelet are made from high quality Russian shungite a stunning Artisan lampwork moonscape bead. Treat yourself to some handcrafted goodness or give this as an outstanding gift to the empath in your life!

Don't let the simplicity of these black beads deceive you! Shungite is a powerful stone! I personally wear it for EMF protection. Even though EMF protection is the most popular reason for using it, Shungite is also incredibly powerful for energetic, emotional, mental and spiritual purification. The grounding and protective energy of this stone helps to neutralize negative energy stored within the mind, body, and spirit. The carbon content and antioxidant-like quality of the stone acts as a detoxifier for your soul, helping you to remove all toxic energy so you can feel your best.

Made with 8mm High quality genuine lustrous Russian shungite beads, a glass Artisan bead, and brass trading beads.

Hand strung on .8 mm strong stretch cord and tied with a surgeon's knot, which is glued and hidden in one of the beads. Bracelets are strung with durable stretchy elastic cord, making them easy to take on and off for daily wear.