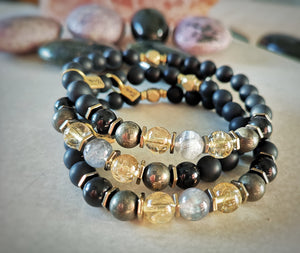 Strength & Joy Bracelet
The beads on this handcrafted bracelet are made from matte black onyx, a natural aura shield and protective stone, as well as citrine, labradorite, pyrite, and shungite. The Strength and Joy bracelet is the perfect gift to give yourself or that special empath in your life.
Black Onyx can prevent unwanted energy from entering your mind, body, or spirit, which gives this stone its protective quality. These mighty stones are the rescue for your spirit, deflecting bad vibes and preventing them from reaching your inner self. Citrine empowers joy and optimism, which gives you the motivation you need to accomplish your goals. Labradorite awakens you to deep inner consciousness, a world where your creativity has infinite possibilities. By boosting your courage and optimism, Pyrite stones show you that you have everything you need to create the opportunities you yearn for.
8 mm Citrine Beads: happiness, joy, light.
8 mm Labradorite Beads: protection, magic, intuition.
8mm Matte Onyx Beads: calm, protection, stress relief.
8mm Pyrite: wealth, success, protection.
8mm shungite: protection, healing, emf shielding
**brass and pyrite accents
Bracelets are strung with durable stretchy elastic cord, making them easy to take on and off for daily wear. Comes with a cloth bag, and gemstone information all together in a gift bag.
***All gemstones are one of a kind. Pieces will always have slight variations in the stones that will be different from the picture.
As a black stone, Onyx holds a lot of connections to our Earth. There is a lot of protective energy within black stones because there is no light within them. This protection will shield your aura from any negative energy surrounding you, particularly from those energy vampires, who always seem to drain you. It's able to absorb this energy and transmute it into the Earth's energy. This will fortify your emotional and physical stamina, which can be helpful in times of stress and grief.
Onyx Associations
Zodiac - Gemini, Leo
Element - Earth
Vibration - Number 6
Typical colours - Black, grey, white, blue, brown, yellow, red, green
Healing with Onyx
♥ Strength ♥ Stamina ♥ Constancy ♥ Permanence ♥ Firmness ♥ Durability ♥ Self-control
Onyx gives strength. It promotes vigour, steadfastness and stamina. Imparts self-confidence, helping you to be at ease in your surroundings. Onyx banishes grief, enhances self-control and stimulates the power of wise decision-making. It encourages happiness and good fortune.