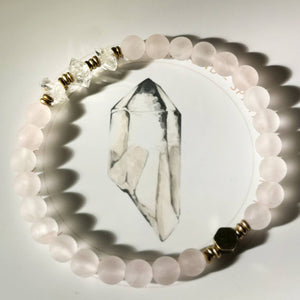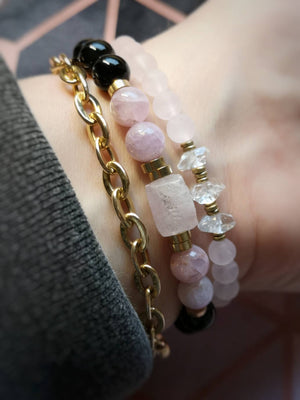 Peace, Love and Light Bracelet ~ Rose Quartz & Herkimer Diamond Bracelet
Herkimer Quartz "Diamonds" are the high energy seekers of the crystal world. Unusually transparent with a brilliant sparkle, they manifest pure, solid Light and are powerful amplifiers of spiritual energy. Paired with the translucent rose quartz, the bracelet will warm your heart on all levels!
Made with 6mm matte rose quartz, 3 gemmy clear Herkimer diamond & African brass trading beads.
Handcrafted with strong .8 mm stretch cord, it is easy to put on and off. Stack it with your other bracelets for a fresh look. Comes with a cloth bag hand-stamped with our Kazzy Stone logo and a jewelry meaning card. Perfect for gifting.
Rose Quartz properties: Rose quartz is a powerful healing crystal with deep meaning and potent metaphysical properties, especially useful for strengthening the heart on all levels.
This listing is for one bracelet.
SIZING
6.5 petites and teens
7 small women's
7.5 medium women's
8 large women's / small men's
8.5 medium men's
If you measure your wrist, a safe bet is to order half an inch to an inch bigger than that measurement. You don't want your bracelet fitting too tightly. For example If your wrist measures a 6.5 order the 7 or 7.5. My wrist measures 7 and I like to wear 7.5 inches.
This listing is for one bracelet. Herkimer Diamond shapes may vary slightly.