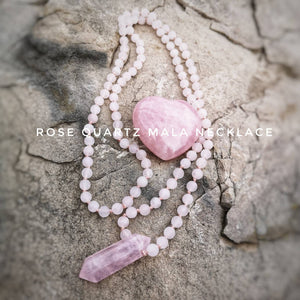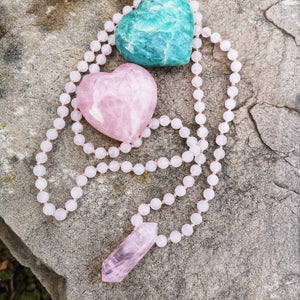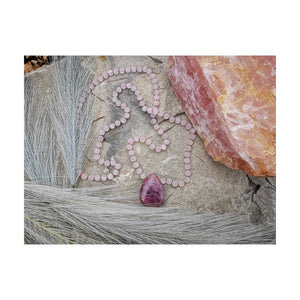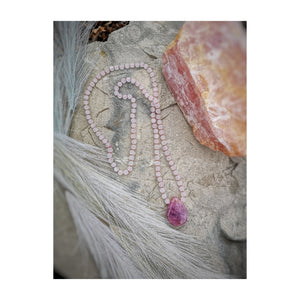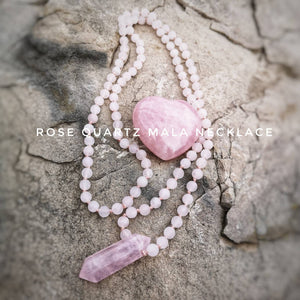 Hand-knotted Rose Quartz Mala Necklace ~108 Bead Mala with Gemmy Rose Quartz Point
This one is for all those rose quartz purists out there!
ALL hand-knotted 6mm matte rose quartz with a beautiful GEMMY rose quartz point pendant or a gorgeous teardrop from Madagascar. 
This 108 bead mala is hand knotted on pink Griffin nylon cord which is extremely strong and superior to silk cord. It won't stretch out like silk and will last you a lot longer. Annnnd, hand-knotted malas are extremely strong compared to malas with spacer beads. The focal pendant is a natural pink rose quartz double terminated crystal  with extra translucency and a nice pink colour or a deep pink teardrop. 
This mala comes with a cloth bag for storage, as well as information about the stone. Presentable as a gift for a loved one or a nice beautiful treat for yourself.

Rose Quartz Properties:
Rose Quartz is a powerful healing crystal with deep meaning and potent metaphysical properties - especially useful for strengthening the heart on all levels.
*** Rose quartz points may have very small inner or surface inclusions or imperfections. All gemstones are one of a kind. Pieces will always have slight variations in the stones that will be different from the picture.