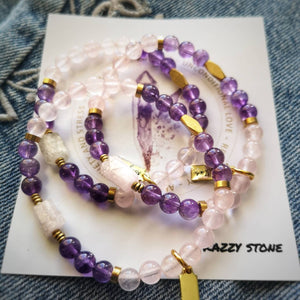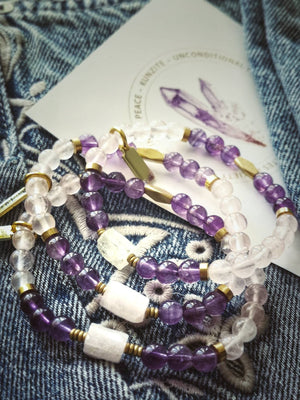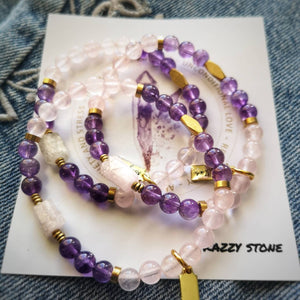 Ancient Ally Bracelet /
Throughout the ages, Rose quartz has been an ancient ally in beauty and Romance. Tied to motherhood, fertility, and feminine power, rose quartz properties extend deep into oral tradition. In Greek legend, rose quartz received its distinctive pink color from the goddess Aphrodite's blood. And in Roman myth, it was Cupid that gifted the powerful pink crystal to humans as a token of passion, happiness, and love.
The stones in this bracelet (Rose Quartz & Kunzite) are linked to Anahata, the Heart Chakra, the activator of love, appreciation, and inner harmony.
Chakras play a role in the flow of energy in your body. Running from the base of your spine to the top of your head, the seven main chakras each correspond to specific nerve bundles and organs in your body.
When one or more of your chakras becomes blocked or unbalanced, it's thought to have an impact on your physical, mental, spiritual, and emotional health.
The heart chakra - the wellspring of love, warmth, compassion, and joy is located in the center of the chest at the heart level. It is the center of your deep bonds with other beings, your sense of caring and compassion, your feelings of self-love, altruism, generosity, kindness, and respect.
How can stones help to heal?
The answer lies in what is known scientifically as the piezoelectric effect. Think of how a quartz watch works. A tiny piece of quartz, when put under pressure, actually generates a constant voltage to keep a watch running with extraordinary precision.
This is the same effect that crystals have on the body. They put out a tiny charge or vibration which affects our biomagnetic energy field, creating balance. Just as each person has a unique energy field, each stone also has a unique vibration.
You can also wear jewelry made from the specific chakra stone that you need to help you balance. As you wear that piece of jewelry the stone will impart the energy that you require for healing. Make sure to cleanse and program your jewelry before you wear it. You can cleanse it by smudging and program it by holding it in your hand and visualizing all that you want the crystal to help you with, and all the positivity you want to manifest in your life.
"A stone of unconditional love and infinite peace, rose quartz is the most important crystal for healing the heart and the heart chakra," writes Hall. "This beautiful stone promotes receptivity to beauty of all kinds." Perhaps in a more literal sense, rose quartz metaphysical properties have been a part of beauty treatments throughout the ages.
As you wear your Ancient Ally Bracelet, throughout the day try practicing an affirmation. Affirmations are useful in making what you desire reality. Write down what you might want to express to others. Try an affirmation of gratitude: I am open to love. All love resides within my heart. I deeply and completely love and accept myself.
The Ancient Ally Bracelet is hand strung on .8mm strong stretch cord with 6mm gemmy pink rose quartz, 6mm amethyst, a beautiful pink Kunzite tube, and African brass trading beads to accent.
Bracelets come with a jewelry bag and a beautiful gemstone card as well as a description of the bracelet's gemstone properties. Perfect for gifting!
Metaphysical Information:
An essential stone for every crystal lover's collection, Amethyst is powerful for a variety of intentions. This calming stone allows you to quiet your mind, which can aid in sleep, meditation, and generally moving through life from a higher state of being. No matter who you are or what your goals are in life, Amethyst can support you along your life's journey.
According to metaphysical beliefs, kunzite is a stone deeply connected to the heart and love. A joyful stone, kunzite opens and connects the heart with the mind, encouraging communion between the two. While wearing kunzite, it is thought you are better able to experience and reciprocate love. 
SIZING

6 petites and teens
6.5 small women's
7 medium women's
7.5 large women's
8 xl large women's / small men's
8.5 medium men's
If you measure your wrist, a safe bet is to order half an inch to an inch bigger than that measurement for comfort.