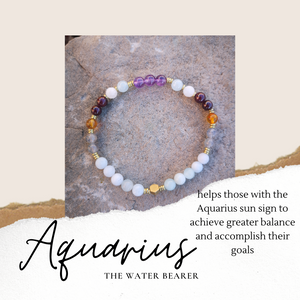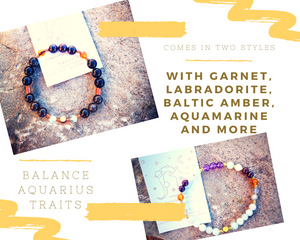 Aquarius Bracelet / Emotional Protection & Balancer for Aquarius
⚛ A thoughtfully chosen array of gemstones for the star sign Aquarius. This selection of crystals has been hand selected to blend with and complement the energy and traits of your sign - Aquarius. A wonderful astrology gift for you or your Water Bearer! ⚛
⚛ OR for those who want to use stones and crystals that can help you harness the passionate energy that Aquarius emits so you can make the most out of this period. Whether you want to rid yourself of past regrets so you can focus on the future and your goals or you need help in visualizing what you want for your future, these stones and crystals are beneficial for everyone during Aquarius season. ⚛

⫸ Amber is actually a fossilized resin and not a gemstone. It's a powerful healer and protects the psyche while clearing an overactive mind and promotes the release of negative energy.
Amber is warming, grounding, eases stress and fear and helps Aquarius connect with earth energy as it often contains ancient bits of leaves, insects or tree bark. Amber carries ancient wisdom that the highly intuitive Aquarius can tap into and wear when creating the new Earth.
⫸ Moonstone aids with intuition, dreaming, relaxation, calming the mind, emotional balance and overreactions. Charge this stone by the moon and wear it to balance the female reproductive organs and cycles. (6mm version)
⫸ Garnet is the traditional birthstone for those born in January. It has a special affinity with both Aquarius and Capricorn. Garnet helps make you very attractive to other people by bringing out your best qualities / is a grounding and protective stone that brings fire, aids with melancholy and is a symbol of love and truth. It is a powerful balancer for air and the erratic influences of Uranus.
⫸ Labradorite is a special stone, known to the Inuit people as the frozen fire that fell from the Aurora Borealis. Labradorite holds mystical energy—a blue light shimmers within its depths and is used by shamans and healers the world over. It is a stone to awaken and strengthen the Aquarians' already strong connection to spirit. Labradorite is a stone for the visionary Aquarius. It protects the aura and governs spiritual exploration.
Named for the Canadian province of Labrador/Newfoundland, this stone represents water and fire—a perfect balancer for Aquarius.
⫸ Aquamarine is a stone for the Throat Chakra. It helps with communication and releasing long-held resentments and emotions. It is useful for travelers, especially those who are attracted to the sea, as it protects and magnetizes the power of the moon and spiritual/creative illumination.
Aquamarine fosters compassion and empathy, which aids in the Aquarian's humanitarian pursuits.
⫸ (6mm version) Amethyst is one of the primary birthstones for Aquarius and is also the traditional birthstone for those born in February. Amethyst is a stone to help assimilate new ideas and will help ground and protect empathic Aquarians. This crystal is a beautiful friend—gentle yet influential. It is also a carrier of fire and creativity.


Handstrung  on strong stretch cord with 5 high quality 6mm or 8mm high quality gemstones and & accented with unique African brass or copper trading beads. (6mm Bracelet: Matte aquamarine, labradorite, amber, garnet, moonstone, amethyst) (8mm bracelet: garnet, amber, labradorite, aquamarine, golden obsidian)

⚛Metaphysical Information for those who want to benefit from these stones when the sun is in Aquarius.
⚛Wearing Amethyst jewelry can help ward off negativity, boost your intuition, and protect you against possible threats especially when traveling.
⚛Wear garnet as jewelry to help boost your innate talents and allow you to find solutions to obstacles, especially those that are hindering you from realizing your goals. It boosts your determination to continue working towards your long-term goals.
⚛Amber is an excellent stone to use during Aquarius season because it emits a very calming energy, which is perfect for people who are constantly overworked.
⚛Aquamarine is a beautiful light blue stone that emits a very calming energy. It is an excellent stone for calming the nerves and easing anxiety. It has a strong association with Aquarius because it encourages honesty and seeking out the truth.


SIZING

6 petites and teens
6.5 small women's
7 medium women's
7.5 large women's
8 xl large women's / small men's
8.5 medium men's

If you measure your wrist, a safe bet is to order half an inch to an inch bigger than that measurement for comfort.