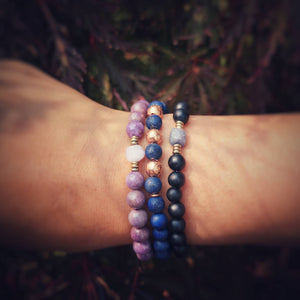 ATLAS BRACELET ~ Copper & Lapis Lazuli Bracelet
An updated twist on the mala bracelet! The copper accents give it a trendy, modern feel. Guaranteed 100 percent natural lapis not treated in any way... Superior AAA grade! There are lots of desirable pyrite specks in these lapis beads.
Made with 6mm matte lapis lazuli and faceted solid 6mm copper beads.
Handcrafted with strong .8 mm stretch cord, it is easy to put on and off. Stack it with your other bracelets for a fresh look. Comes with a cloth bag hand-stamped with our Kazzy Stone logo and a jewelry meaning card. Perfect for gifting.
It is said that....Lapis Lazuli is one of the most sought after stones in use since man's history began. Its deep, celestial blue remains the symbol of royalty and honor, gods and power, spirit and vision. It is a universal symbol of wisdom and truth.
A stone of protection that may be worn to guard against psychic attacks, Lapis Lazuli quickly releases stress, bringing deep peace. It brings harmony and deep inner self-knowledge. ... Lapis Lazuli boosts the immune system, purifies blood, lowers blood pressure, cooling and soothing areas of inflammation.
SIZING
6.5 petites and teens
7 small women's
7.5 medium women's
8 large women's / small men's
8.5 medium men's
If you measure your wrist, a safe bet is to order half an inch to an inch bigger than that measurement. You don't want your bracelet fitting too tightly. For example If your wrist measures a 6.5 order the 7 or 7.5. My wrist measures 7 and I like to wear 7.5 inches.
This listing is for one bracelet.