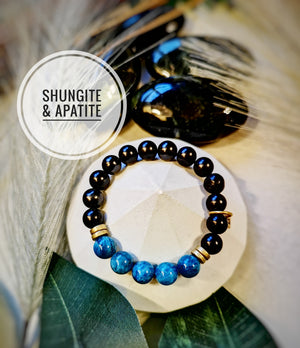 Children's Shungite Bracelet
Humming with high vibrations & free from gathering toxic energies, this shungite bracelet is all about grounding and protection for your littles.
***Guaranteed 100% natural shungite from Russia not treated in any way...
Made with 8mm genuine shungite beads, and your choice of phosphosiderite or apatite accent beads and unique brass beads from Africa.
****Sizing: This bracelet will fit a child with a 4.75-5.25 wrist (approximately 5-8) years old. It measures about 6 inches lying flat and inside diameter is about 5.5 inches.
If you need a bigger bracelet please size up to adult. I can take beads out if you need it smaller.
Hand strung on .8 mm strong stretch cord and tied with a surgeon's knot, which is glued and hidden in one of the beads. Bracelets are strung with durable stretchy elastic cord, making them easy to take on and off for daily wear.
Metaphysical Information:
Shungite is one of the only known natural material known to contain fullerenes, which are powerful anti-oxidants. The energy embodied within this ancient stone is said to absorb and eliminate anything that is a health hazard to human life, and it has active metaphysical properties with strong healing powers. This is one stone you need in your healing toolbox!
***This listing is for one bracelet
ABSOLUTELY NOT INTENDED FOR USE BY TODDLERS OR BABIES. AGES 4 AND UP.
Disclaimer: Metaphysical and Alternative Crystal Healing Powers and Properties are not to be taken as confirmed advice. Traditional, Ceremonial and Mythological Gemstone Lore is collected from various resources and does not represent the sole opinion of Kazzy Stone Canada. This information is not to replace the advice of your doctor. Should you have any medical conditions, please see a licensed medical practitioner. Kazzy Stone Canada does not guarantee any claims or statements of healing or astrological birthstone powers and cannot be held liable under any circumstances.