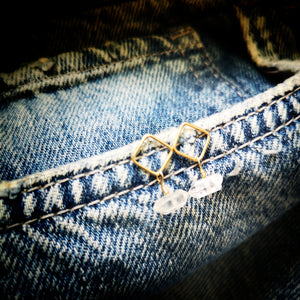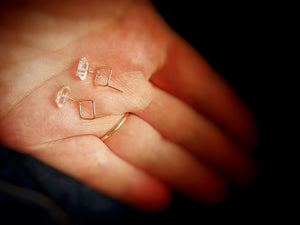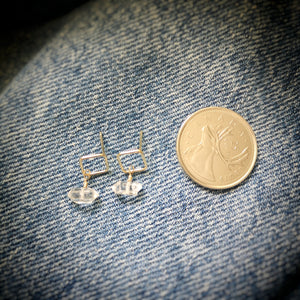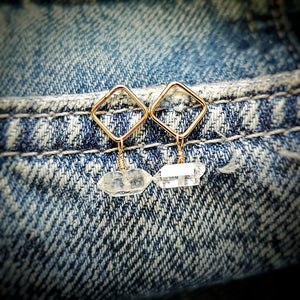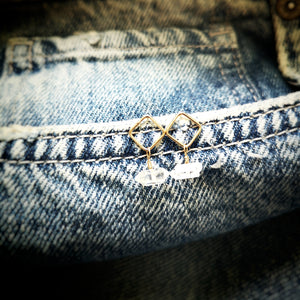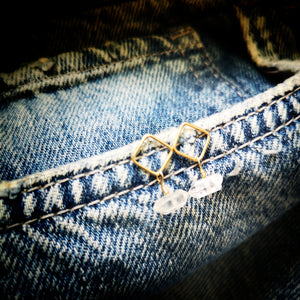 Drop of Light Gold Filled Earrings
A little drop of light beneath a dainty gold diamond - so beautiful!
Herkimer Diamonds are the most powerful of all Quartz crystals. Being doubly terminated, they have the ability to not only transmit their own energies, but to receive spiritual energy and to amplify and focus it intently. They are reported to be harder than all other Quartz, giving them the strength and durability to handle difficult challenges beyond the scope of other Quartz crystals. What they lack in physical size, they more than make up for in spirit energy.
These unique diamond shaped earrings are 10mm (18mm with the herkimer drop) gold-filled - finished off with a herkimer dangle or drop on gold-filled wire. Simple and elegant for every day wear! They sit flat on the earlobe and the bottom of the diamond hangs off the edge of the earlobe with the dangle.
Gold Filled
When purchasing jewellery a more economical than solid gold but still beautiful option is a gold filled piece. Jewelers create gold filled jewellery by pressure bonding an actual layer of gold to another metal. Although a gold filled piece of jewellery is not sold gold, it has the same desirable properties and look of solid gold.
It won't tarnish and will not rub off or turn colours. Wearers who are sensitive to certain metals can wear gold filled without worries of an allergic reaction. Although the layer of gold in gold filled pieces varies depending on the manufacturer it is in all cases significantly thicker than regular gold plating (the next category of gold jewellery). Gold filled accessories can be worn even daily without fear of fading or rubbing off for many cases as long as 30 years.