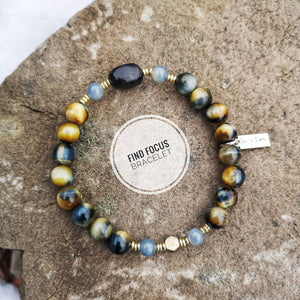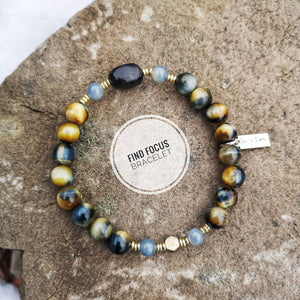 Find Focus Crystal Therapy Bracelet
TIGERS EYE
This is a stone of action. It also helps one stay grounded, centered and calm, regardless of the situation. It encourages mental clarity, activates intellect and sharpens the logical mind. It activates one's will and is a great stone to call upon when one needs to persevere through hard effort and difficulties, lending strength to the carrier.
Stones of the Throat Chakra, Blue Sapphire and Blue Tiger's Eye help turn your ideas into reality and get the results that you desire. They also open your throat chakra, which will enhance your communication with people, especially when you regularly speak in front of them!
Chakras play a role in the flow of energy in your body. Running from the base of your spine to the top of your head, the seven main chakras each correspond to specific nerve bundles and organs in your body. When one or more of your chakras becomes blocked or unbalanced, it's thought to have an impact on your physical, mental, spiritual, and emotional health.
The throat chakra (also known as Vishuddha) is responsible for communication, self-expression, and the ability to speak your personal truth. Tiger's Eye is also connected to the Solar Plexus or Power Chakra (found underneath your Heart Chakra) and is a gemstone of courage, strength and personal power. It can help you feel grounded and supported.
How can stones help to heal?
The answer lies in what is known scientifically as the piezoelectric effect. Think of how a quartz watch works. A tiny piece of quartz, when put under pressure, actually generates a constant voltage to keep a watch running with extraordinary precision.
This is the same effect that crystals have on the body. They put out a tiny charge or vibration which affects our biomagnetic energy field, creating balance. Just as each person has a unique energy field, each stone also has a unique vibration.
You can also wear jewelry made from the specific chakra stone that you need to help you balance. As you wear that piece of jewelry the stone will impart the energy that you require for healing. The blue colour of sapphire and blue tiger's eye is used to treat imbalances of the throat chakra.
Find Focus Bracelet is hand strung on strong stretch cord with beautiful rare 8mm blond & blue Tiger's eye 6 mm cornflower blue genuine Sapphire PLEASE NOTE I AM USING RAW SAPPHIRE NUGGETS INSTEAD OF POLISHED SAPPHIRE), a genuine Russian shungite nugget and unique brass trading beads to accent.
Bracelets come with a jewelry bag and a beautiful gemstone card as well as a description of the bracelet's gemstone properties. Perfect for gifting!
Metaphysical Information:
Like other forms of tiger's eye, the blue variety (often called Hawk's Eye) is a form of quartz in which silky asbestos fibers have been trapped within the SiO2, giving it a distinctive sheen. 
Combining the raw power of Tiger's Eye with the blue color association gives an interesting and useful combination of metaphysical characteristics. All tiger's eye is great for removing habits that no longer serve, plowing through details of your to-do list, and getting down to business. Tiger's Eye is a great stone for putting "pedal to the metal," taking charge of what you want and bringing it into reality. It's also a traditional stone for warding off the evil eye. It can make you feel grounded, empowered and protected. Along with this, the blue variety boosts the power and effectiveness of all forms of communication. 
Sapphire is known as a Stone of Wisdom and a royal stone of learning, mental acuity and psychic activation, a seeker after spiritual truth. Its pure Blue Ray brings order and healing to the mind, lending strength and focus, and an ability to see beneath surface appearances to underlying truths and to utilize that knowledge. It stimulates the Throat and Third Eye Chakras, allowing one to access deeper levels of consciousness in order to gain a fuller understanding of self. Associated with the planet Saturn, Blue Sapphire embraces order, structure, and self-discipline, and is ideal for accomplishing goals and manifesting ideas into form. Sapphire's power to transmute negative thoughts and energy also makes it highly effective for earth and chakra healing. 
Russian Shungite
Even though EMF protection is the most popular reason for using it, Shungite is also incredibly powerful for energetic, emotional, mental and spiritual purification. The grounding and protective energy of this stone helps to neutralize negative energy stored within the mind, body, and spirit. The carbon content and antioxidant-like quality of the stone acts as a detoxifier for your soul, helping you to remove all toxic energy so you can feel your best.
SIZING
6 petites and teens
6.5 small women's
7 medium women's
7.5 large women's
8 xl large women's / small men's
8.5 medium men's
If you measure your wrist, a safe bet is to order half an inch to an inch bigger than that measurement.