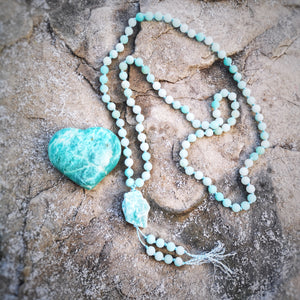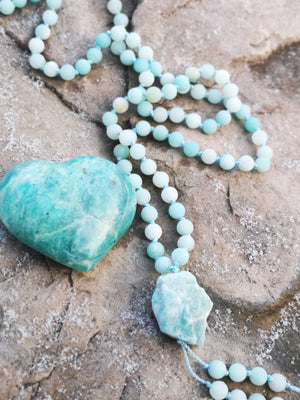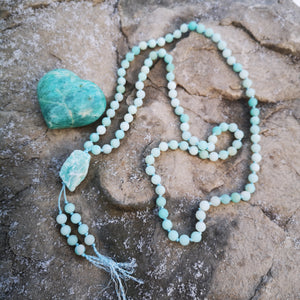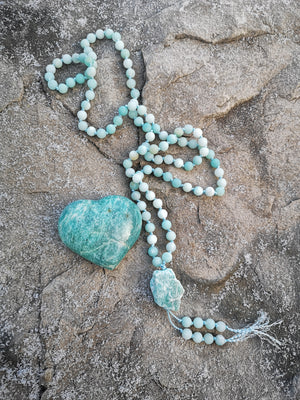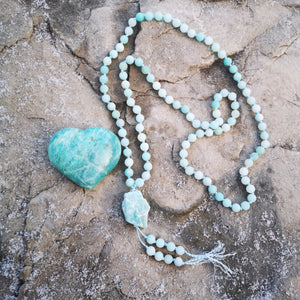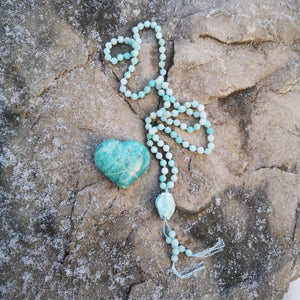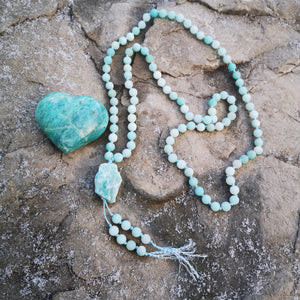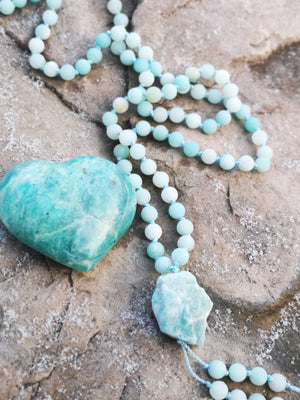 Hand-knotted Soothing Amazonite Mala Necklace \ \ 108 Bead Mala \ \
𝘐𝘧 𝘺𝘰𝘶 𝘢𝘳𝘦 𝘭𝘰𝘰𝘬𝘪𝘯𝘨 𝘧𝘰𝘳 𝘢 𝘨𝘭𝘪𝘮𝘮𝘦𝘳 𝘰𝘧 𝘩𝘰𝘱𝘦 𝘸𝘪𝘵𝘩𝘪𝘯 𝘵𝘩𝘦 𝘥𝘢𝘳𝘬𝘯𝘦𝘴𝘴, 𝘵𝘶𝘳𝘯 𝘵𝘰 𝘺𝘰𝘶𝘳 𝘴𝘰𝘰𝘵𝘩𝘪𝘯𝘨 𝘈𝘮𝘢𝘻𝘰𝘯𝘪𝘵𝘦 𝘮𝘢𝘭𝘢 𝘧𝘰𝘳 𝘢 𝘣𝘰𝘰𝘴𝘵 𝘰𝘧 𝘩𝘰𝘱𝘦𝘧𝘶𝘭𝘯𝘦𝘴𝘴.

Thanks to a magical combination of lead and water within its feldspar structure, Amazonite and its dazzling blue green hues and mottled light-green specs echo the color of the Amazon River and its calming and soothing energies. Hold tight to Amazonite during times of stress and call on its ultra chill vibes for a much-needed float down your inner river of tranquility. The serene energy of this stone makes Amazonite a powerful heart chakra stone, helping to release toxic emotions and other unwanted energy from your heart space.

This 108 bead mala is created just for you with 6mm matte amazonite and hand knotted on light blue Griffin nylon cord which is extremely strong and superior to silk cord. It won't stretch out like silk and will last you a lot longer. Annnnd, hand-knotted malas are extremely strong compared to malas with spacer beads. The focal pendant is a natural raw Amazonite nugget. (Please note that you may receive a different amazonite nugget than pictured as each stone is unique)

Comes with a cloth bag stamped with Kazzy Stone logo for storage or gifting as well as a description of the gemstone's properties.

Made to order. Please allow 3-5 days for handcrafted production. (One available and in stock)

𝘼𝙢𝙖𝙯𝙤𝙣𝙞𝙩𝙚 𝘼𝙨𝙨𝙤𝙘𝙞𝙖𝙩𝙞𝙤𝙣𝙨
Chakras - Heart Chakra, Throat Chakra
Zodiac - Virgo
Planet - Uranus
Element - Earth, Water
Vibration - Number 5
Typical colours - Green with cream veins.


𝘼𝙢𝙖𝙯𝙤𝙣𝙞𝙩𝙚 𝙈𝙚𝙩𝙖𝙥𝙝𝙮𝙨𝙞𝙘𝙖𝙡 𝙋𝙧𝙤𝙥𝙚𝙧𝙩𝙞𝙚𝙨
♥ Inspires truth ♥ Sincerity ♥ Honour ♥ Self-love ♥ Communication ♥ Eloquence ♥ Integrity ♥ Trust ♥ Clairvoyance ♥ Clarity ♥ Prophecy ♥ Psychic vision

Amazonite can be the most amazing gemstone for weaving frayed emotional threads. Soothing anxious dispositions and self-destructive thoughts is what Amazonite does best. It's also a brilliant gemstone to have on hand when you need to pull your self-esteem up by the bootstraps. Connected with the feminine, the Amazonite crystal works directly against habits of self-neglect, inviting you to always put yourself first.

For those who struggle with past trauma, Amazonite can also bring its healing energy to help you step forward. By helping the mind filter out stress and anxiety and learning to let go of that which is not serving us any longer, it helps to patch up old wounds and make things seem much more manageable by breaking down big problems into bite-sized digestible pieces.

Being a throat chakra stone, Amazonite also invites you to test out crystal clear communication and to practice putting beautifully healthy boundaries in place. It invites you to move out from the fear of the shadow of judgement and to step into the light. Whatever expectations others place upon you are nowhere near as important as the truth of your own heart.

Disclaimer: Metaphysical and Alternative Crystal Healing Powers and Properties are not to be taken as confirmed advice. Traditional, Ceremonial and Mythological Gemstone Lore is collected from various resources and does not represent the sole opinion of Kazzy Stone Canada. This information is not to replace the advice of your doctor. Should you have any medical conditions, please see a licensed medical practitioner. Kazzy Stone Canada does not guarantee any claims or statements of healing or astrological birthstone powers and cannot be held liable under any circumstances.