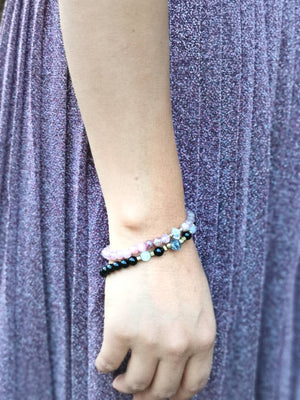 Herkimer Diamond, Moonstone and Black Tourmaline Mala Bracelet
ℍ𝔼ℝ𝕂𝕀𝕄𝔼ℝ 𝔻𝕀𝔸𝕄𝕆ℕ𝔻𝕊
are the most powerful of all Quartz crystals. Being doubly terminated, they have the ability to not only transmit their own energies, but to receive spiritual energy and to amplify and focus it intently. They are reported to be harder than all other Quartz, giving them the strength and durability to handle difficult challenges beyond the scope of other Quartz crystals. What they lack in physical size, they more than make up for in spirit energy.
This bracelet is hand-crafted with glossy beautiful 6mm black tourmaline beads and the focal bead is a rare raw Herkimer Diamond quartz crystal with black carbon inclusions. It is accented with Moonstone and African brass trade beads. I really love this piece!
Bracelets are strung with durable high quality stretchy elastic cord, making them easy to take on and off for daily wear. All jewelry comes with a cloth bag hand-stamped with the Kazzy Stone logo.
Bead Information:
Guaranteed 100% natural Black Tourmaline not treated in any way... These A+ grade beads has super nice mirror polish... Ancient magicians once relied upon Black Tourmaline to protect them from demons as they cast their spells and today this stone is still revered as a talisman of protection, dispelling negative energies, entities, or destructive forces in daily life. Bring Black Tourmaline with you as a way to remove bad luck and energy coming your way.
*All gemstones are one of a kind. Pieces will always have slight variations in the stones that will be different from the picture.
SIZING
6.5 petites and teens
7 small women's
7.5 medium women's
8 large women's / small men's
8.5 medium men's
If you measure your wrist, a safe bet is to order half an inch bigger than that measurement. You don't want your bracelet fitting too tightly. For example If your wrist measures a 6.5 order the 7 or for a looser fit order the 7.5. My wrist measures 7 and I like to wear 7.75 inches.