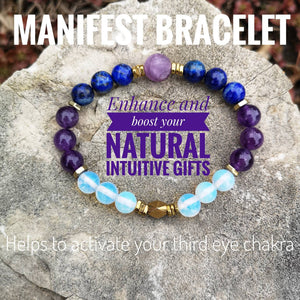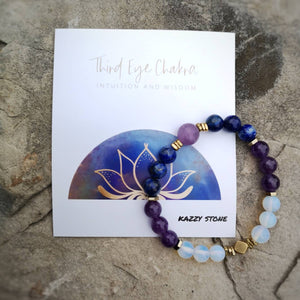 Manifest Bracelet / Amethyst and Lapis Lazuli help to activate your third eye chakra
****Manifest new ideas, dreams, and visions****
The Brow Chakra also called the third eye is the center of perception and command. It directs our sight and everyday awareness of the world. Our consciousness is located here. "We" are here. We relate to ourselves through this chakra.
When the brow chakra is out of balance, the whole being suffers. Without perspective, nothing makes sense. You will be confused, have difficulty seeing things clearly, and knowing what is important and what is not. You will not have command of your body or your thoughts. You will suffer headaches, ear aches and have vision problems. You will be unable to work through problems or puzzles. Things just won't make sense. You will be disoriented and confused.
When the Third eye chakra has an imbalance, it can manifest as:
Feeling stuck in the daily grind without being able to look beyond your problems and set a guiding vision for yourself
Overactive third chakra without support from the rest of the chakra system may manifest as fantasies that appear more real than reality, indulgence in psychic fantasies and illusions
Not being able to establish a vision for oneself and realize it
Rejection of everything spiritual or beyond the usual
Not being able to see the greater picture
Lack of clarity
When the brow chakra is in balance we see clearly and understand what we see. We are able to interpret visual cues and our perception is high. Our thoughts and internal communications with ourselves are healthy and vibrant. We have perspective on events and ideas. We are open to new ideas, dreams, and visions. We can be quietly observant, and reflective. We can control the flow of energy within all the chakras.
How can stones help to heal?
The answer lies in what is known scientifically as the piezoelectric effect. Think of how a quartz watch works. A tiny piece of quartz, when put under pressure, actually generates a constant voltage to keep a watch running with extraordinary precision.
This is the same effect that crystals have on the body. They put out a tiny charge or vibration which affects our biomagnetic energy field, creating balance. Just as each person has a unique energy field, each stone also has a unique vibration.
You can also wear jewelry made from the specific chakra stone that you need to help you balance. As you wear that piece of jewelry the stone will impart the energy that you require for healing. 
The dark blue/purple crystals of indigo are used to treat imbalances of the brow chakra. This is the color of an empty sky, of solitude and reflection. It is a quiet color, one of mystery and wisdom and judgment. As you wear your Manifest Bracelet, throughout the day, visualize the things you want to manifest in your life. The power of the Third Eye Chakra is witnessing your freedom beyond the realms of 'realistic illusion.' Ultimately nothing is holding you back – it is only your mind that has power over you and if you can control the mind, you can then ascend any limitations you currently have.
Hand strung on strong stretch cord with 3 different 8mm high quality genuine gemstones: Amethyst, Lapis Lazuli, Opalite & accented with hematite hexagon spacer beads and African brass trading beads.
Bracelets come with a jewelry bag and a beautiful gemstone card as well as a description of the bracelet's gemstone properties. Perfect for gifting!

Metaphysical Information:
Amethyst
Amethyst is a powerful and protective stone. It guards against psychic attack, transmuting the energy into love and protecting the wearer from all types of harm, including geopathic or electromagnetic stress and ill wishes from others. Amethyst is a natural tranquillizer, it relieves stress and strain, soothes irritability, balances mood swings, dispels anger, rage, fear and anxiety.
Lapis Lazuli
A stone of protection that may be worn to guard against psychic attacks, Lapis Lazuli quickly releases stress, bringing deep peace. It brings harmony and deep inner self-knowledge. Encourages self-awareness, allows self-expression and reveals inner truth, providing qualities of honesty, compassion and morality to the personality. Stimulates objectivity, clarity and encourages creativity. Lapis Lazuli assists to confront and speak one's truth and inspires confidence. It bonds relationships, aiding in expression of feelings and emotions.

Opalite
Opalite is subtle yet highly energetic. It is ideal for meditation. Opalite improves communication on all levels, especially the spiritual. It removes energy blockages of the chakras and meridians. Emotionally, Opalite helps by assisting during transitions of all kinds. It engenders persistence and gives us strength in verbalising our hidden feelings. It can also help us to be successful in business.