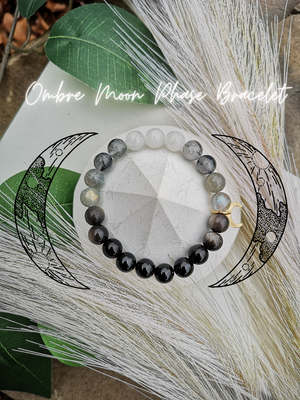 MOON Phases Bracelet
Mystical and celestial phases of the moon are represented by swirling hues of black to white in this unique bracelet. Made from 8mm genuine high quality gemstones - black tourmaline, silver sheen obsidian, labradorite, black rutile quartz & moonstone -  and accented with a crescent moon charm, this stretch bracelet will become a favorite accessory of horoscopic proportions.
Hand strung on .8 mm strong stretch cord and tied with a surgeon's knot, which is glued and hidden in one of the beads. Bracelets are strung with durable stretchy elastic cord, making them easy to take on and off for daily wear.
Metaphysical Information:
Labradorite: There are many qualities attributed to this beautiful, mystical stone such as good luck, protection, lucid dreaming, insight, enhanced psychic abilities, intuition, and dispelling negative energies. Labradorite, possessing it's own charms, is part Feldspar and part Albite. Therefore the properties of all of these minerals make up the magic that is Labradorite. All together this fantastical stone is noted for taking darker and unwanted energies and replacing them with positive energies.
Black Tourmaline can be used to both repel and protect against negativity. It is excellent for deflecting radiation energy. It enhances ones physical well being by providing an increase in physical vitality, emotional stability, and intellectual acuity.
A perfect tool for gazing, Silver Sheen Obsidian adds the mystery of lunar energies in its ability to mirror the inner being. It is especially beneficial for helping us to see ourselves as others see us, even if the reality is unflattering. It helps us to understand our behaviors and to refine undesirable traits, enhancing patience and perseverance when needed.Silver Sheen Obsidian is a marvelous stone for out-of-body journeying as it provides a strong connection between the physical and astral bodies, and assures a safe soul return.
Rutilated Quartz is an illuminator for the soul, promoting spiritual growth. It cleanses and energises the aura. Draws off negative energy and disease, letting go of the past. Rutilated Quartz gives protection against the ill thoughts of others. It helps to reach the root of problems and facilitates transitions and a change of direction. Soothes dark moods and acts as an antidepressant. Rutilated Quartz relieves fears, phobias and anxiety. Promotes forgiveness at all levels.
A stone for "new beginnings", Moonstone is a stone of inner growth and strength. It soothes emotional instability and stress, and stabilises the emotions, providing calmness. Moonstone enhances intuition, promotes inspiration, success and good fortune in love and business matters.