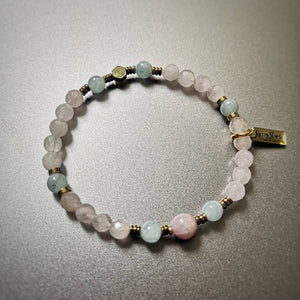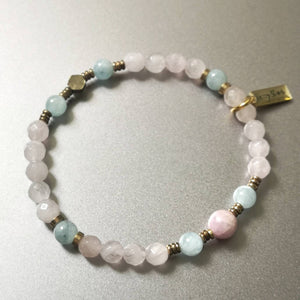 Raising my Vibrations Rose Quartz Bracelet / Rose Quartz, Kunzite & Aquamarine Bracelet
Rose quartz is a powerful healing crystal with deep meaning and potent metaphysical properties, especially useful for strengthening the heart on all levels.
Made with 6mm faceted gemmy rose quartz, light blue aquamarine, 8mm kunzite & African brass trading beads.
Handcrafted with strong .8 mm stretch cord, it is easy to put on and off. Stack it with your other bracelets for a fresh look. Comes with a cloth bag hand-stamped with our Kazzy Stone logo and a jewelry meaning card. Perfect for gifting.
Rose Quartz properties:
Rose quartz is a pale pink stone that has deeply been associated with love since 7000 BC. Known as the "love stone", rose quartz was used to balance emotions and to heal anger.
Ancient Egyptians valued it for its powers to make one more beautiful, prevent aging, and it has also been found buried in tombs.
It was also used in the middle ages by medical practitioners to heal their patients.
Rose quartz most prominently appears in Greek mythology as a stone that appeared on the earth after Aphrodite's mortal lover, Adonis, is killed by her former lover Ares. As Aphrodite rushes down from the heavens, she cuts herself on a bush. As she held her dying lover in her arms both their blood mixed and stained white quartz stones pink. Their love led Zeus to feel sorry for the goddess and he decided to bring back Adonis for six months in a year. This tale led to the almost universal association of the stone to love.
When your soul truly needs to achieve inner peace and harmony, the rose quartz is the perfect companion. It is a stone of love, compassion, and forgiveness. It banishes away emotional pain and resentment.
Holding a rose quartz near your heart is a sure way of attracting and feeling love.
Despite it being common, it is a valuable stone to have in one's collection. Its calming and comforting powers is perfect to keep with you, your partner, and all around your home.
Whether you need more love in your life or to create stronger bonds, rose quartz is the one stone that can bring you both.
This listing is for one bracelet.
SIZING
6 petites and teens
6.5 small women's
7 medium women's
7.5 large women's / small men's
8 medium men's
If you measure your wrist, a safe bet is to order half an inch to an inch bigger than that measurement. You don't want your bracelet fitting too tightly. For example If your wrist measures a 6.5 order the 7 or 7.5. My wrist measures 7 and I like to wear 7.5 inches.