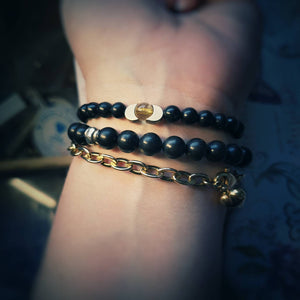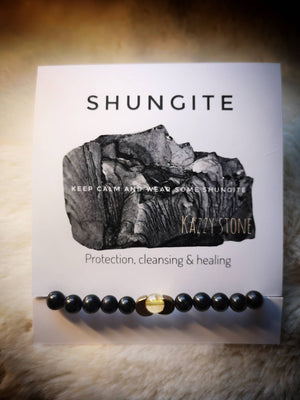 Shungite Citrine Moon Bracelet
****From my Gem Supplier****
"Guaranteed 100% natural shungite from Russia not treated in any way...! This lustrous, non-crystalline mineraloid consists of more than 98 weight percent of carbon(in its most pure form). It's quite magical in the metaphysical world! If these are not the best shungite round beads you can find the market, simply return them and no questions asked!"
Don't let the simplicity of these black beads deceive you! Shungite is a powerful stone! I personally wear it for EMF protection.
Made with 6mm genuine shungite beads, and accented with one gemmy 6mm citrine bead & African brass trading beads.
Hand strung on .8mm strong stretch cord and tied with a surgeon's knot, which is glued and hidden in one of the beads. Bracelets are strung with durable stretchy elastic cord, making them easy to take on and off for daily wear.
Metaphysical Information:
Shungite is one of the only known natural material known to contain fullerenes, which are powerful anti-oxidants. The energy embodied within this ancient stone is said to absorb and eliminate anything that is a health hazard to human life, and it has active metaphysical properties with strong healing powers. This is one stone you need in your healing toolbox!
SIZING
6 petites and teens
6.5 small women's
7 medium women's
7.5 large women's
8 xl large women's / small men's
8.5 medium men's
If you measure your wrist, a safe bet is to order half an inch to an inch bigger than that measurement. You don't want your bracelet fitting too tightly. For example If your wrist measures a 6.5 order the 7 or 7.5. My wrist measures 7 and I like to wear 7.5 inches.
***This listing is for one bracelet