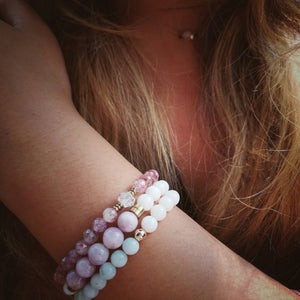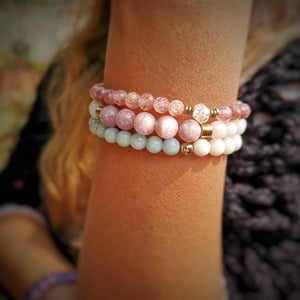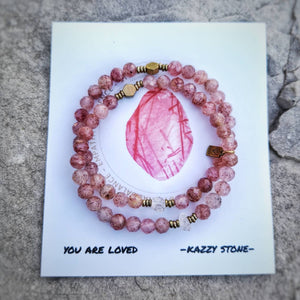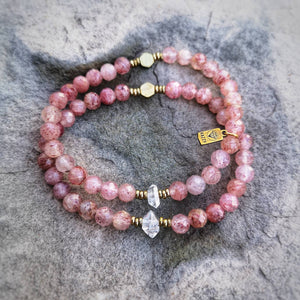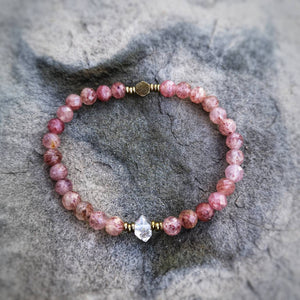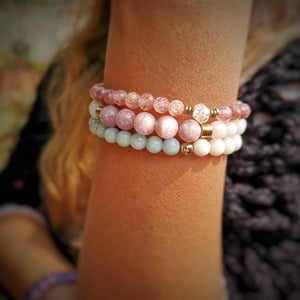 SIA BRACELET \ Micro Faceted Natural Red Pink Strawberry Quartz & Herkimer Diamond \ AA Laser Diamond Cut Sparkling Strawberry Quartz
The Sia Bracelet is handcrafted with stunning 6mm AA micro faceted natural red pink strawberry quartz and is accented with Kazzy Stone signature brass bead design.
Handcrafted with strong .8mm stretch cord, it is easy to put on and off. No worrying about fiddling with clasps. Stack it with your other bracelets for a boho look. Comes with a cloth bag hand-stamped with our Kazzy Stone logo and a meaning card.
Strawberry Quartz properties: Strawberry Quartz carries all the energies of a Clear Quartz, with the additional vibrations of universal love, understanding of your reason in this world, and courage to seize the day. Wearing a piece of Strawberry Quartz can be very soothing and calming for you, especially when you work in a fast-paced environment.
This listing is for one bracelet.
SIZING
6.5 petites and teens
7 small women's
7.5 medium women's
8 large women's / small men's
8.5 medium men's
If you measure your wrist, a safe bet is to order half an inch to an inch bigger than that measurement. You don't want your bracelet fitting too tightly. For example If your wrist measures a 6.5 order the 7 or 7.5. My wrist measures 7 and I like to wear 7.5 inches.
This listing is for one bracelet.