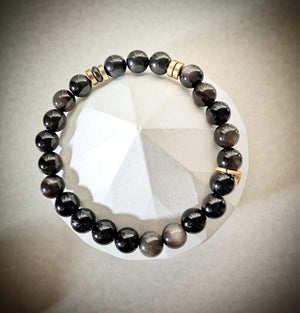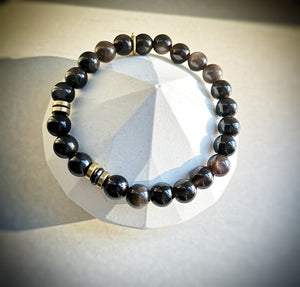 Silver Obsidian Shungite Bracelet
Glowing in the sunlight with iridescent bands of silver, the Silver Sheen Obsidian Bracelet is all about helping you to alleviate & release your deepest unconscious fears. Silver Sheen Obsidian is believed to bring one "advantage" throughout life. It improves perception, sharpens the senses and intellect, promotes articulate communication to others, and helps keep personal likes and dislikes from affecting rational decision-making.
Made to order just for you with 8mm high quality silver sheen obsidian and is accented with 3 shungite beads, one shungite rondelle and African brass trading beads.
Hand strung on .8mm strong stretch cord and tied with a surgeon's knot, which is glued and hidden in one of the beads. Bracelets are strung with durable stretchy elastic cord, making them easy to take on and off for daily wear.
Bracelets come in a jewelry bag and a beautiful gemstone card as well as a description of the bracelet's gemstone properties. Perfect for gifting!
Can you benefit from Silver Sheen Obsidian?
If you can answer yes to one or more of these statements, Obsidian crystals can benefit and enhance your life:
You are in search of the ultimate protection stone
You wish to be more connected to your Root & Third Eye Chakras
You wish to turn tiresome negativity into a positive opportunity
You find volcanoes, magma, and lava to be fascinating elements full of powerful lore
You love the color black
You want a gem that enhances & deepens meditation
You want a gem that has proven to be useful physically and metaphysically, by your ancestors and by modern-day people
Obsidian is a volcanic rock that forms when Lava solidifies so quickly that the surrounding minerals have no time to crystallize. For example, the Lava may flow into a lake or ocean and solidify immediately! Silver Sheen Obsidian is a dark brown/black form of Obsidian that is filled with bright sparkly silver-coloured inclusions.
Obsidian is one of the most protective crystals on the planet. Obsidian keeps your aura safe and protected. This valiant gemstone replaces your doubts, fears, and anxieties with a sense of hope. It also acts as a shield against negativity so that you attract positive, kind people into your life.
Obsidian is a manifestation stone. It helps you tap into the limitless powers of the Law of Attraction. With Obsidian as your helper, you can reap the happiness of true love, wealth, good health, spiritual wisdom, and life satisfaction.
Silver Sheen Obsidian is a powerfully protective stone that helps you to see the truth. Highly spiritual, its vibration opens a window to your soul so to speak & helps you reflect on what is needed for your spiritual evolution & advancement. Other metaphysical information about Silver Sheen Obsidian includes the following:
clears & purifies any negative energy
helps you see & understand your inner self
helps you see yourself as others might see you
helps you see to the root of problems & the core of situations
enables you to make any changes that are necessary to align with your soul purpose
connected to your Root & Third Eye Chakras
enhances & deepens meditation
connected to your Root & Third Eye Chakras
helps to alleviate & release your deepest unconscious fears
enhances patience & perseverance
brings out your inner beauty
helps to eliminate ego conflicts
the perfect crystal for crystal gazing or scrying