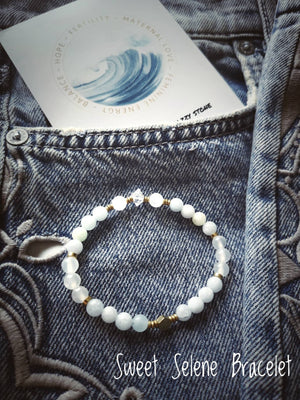 Sweet Selene Bracelet / Matte Blue Aquamarine, Selenite & Herkimer Diamond Quartz / Gain insight with selenite / High quality crystals
Learn the Story of Selenite
Understanding the selenite meaning is about understanding the history of the stone. The crystal is named after the moon goddess Selene, and it is said to be the crystal God used to create life. Many believers say that when God breathed divine light into the world, the light shattered and formed the crystals known as selenite. People even suggest that when you use the stone, you may see remnants of that divine light. However, the principal purpose of the stone is to strengthen your memory and guide you to your destiny.
Gain Insight With the Selene Stone
The selenite crystal opens the crown chakra of the user, and this activation helps to raise your level of insight and intuition. Many users of this healing stone claim to hear their inner voice more clearly, allowing them to understand their environment and even have premonitions about potential hazards. It is the unlocking of the third-eye chakra that enables foresight and psychic protection powers. There are different techniques and practices for unlocking both your crown chakra and third-eye chakra with the selenite crystal.
Made with breathtaking 6mm high quality matte aquamarine beads , 6mm translucent selenite beads from Madagascar, and accented with brass trading beads.
Handcrafted with strong .8 mm stretch cord, it is easy to put on and off. It's so easy and comfortable for daily wear! Stack it with your other bracelets for a fresh look. Comes with a cloth bag hand-stamped with our Kazzy Stone logo.
From the Crystal Bible by Judy Hall
"Translucent selenite has a very fine vibration and brings clarity of mind, opening the crown and higher crown charkas and accessing angelic consciousness and higher guidance
The meaning of the Aquamarine stone is based heavily on its namesake – the sea. Everything that the endless blue ocean represents is included in the meaning of this stone. It represents exhilaration as well as relaxing calm. It is a stone that encourages you to let go of your feelings and cleanses evil thoughts and barrier-inducing experiences. The stone inspires trust and truth.
The reflective properties of this transparent blue mineral are connected to how the sky is reflected on the sea surface. The reflective properties are related to the ability to find hidden meanings and truths. The aquamarine stone facilitates facing others or oneself head-on and staring into the depths of the soul directly. All of these properties stand firmly at the heart of aquamarine's meaning.
SIZING
6.5 petites and teens
7 small women's
7.5 medium women's
8 large women's / small men's
8.5 medium men's
If you measure your wrist, a safe bet is to order half an inch to an inch bigger than that measurement. You don't want your bracelet fitting too tightly. For example If your wrist measures a 6.5 order the 7 or 7.5. My wrist measures 7 and I like to wear 7.5 inches.
This listing is for one bracelet.