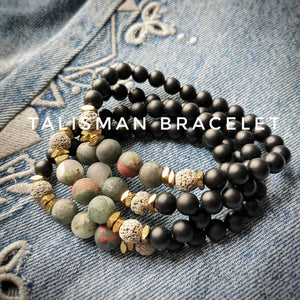 Talisman Bracelet / / Bloodstone, Onyx & Lava Bracelet
In the ancient world, Bloodstone (Heliotrope) was considered to be the most beautiful of the Jaspers, a deep, earthy green gem emboldened with spots of bright red. Called the Sun Stone, and later Christ's Stone, its energy carries the purity of blood and inherently speaks of life and birth, vitality and strength, passion and courage. As a talisman it is both mystical and magical, and its virtues are protective and nurturing.
Bloodstone was treasured not only as a talisman of good health and long life, but was reputed to bring its owner respect, good fortune, riches and fame. It protected one from deception, helped overcome enemies in battle, and secured victory in court and legal matters. It was also believed to have magical properties with the ability to control the weather by averting lightning, conjuring storms or summoning rain. Bloodstone conferred the gift of prophecy as an "audible oracle" that gave off sound as a means of guidance or to warn of danger, and could direct spiritual energies to banish negativity and evil. [Fernie, 180-183][Kunz, 60-61][Hall, 84-85][Hall En, 105][Dunwich, 64][Lecouteux, 166]
Hand crafted with 8mm matte black onyx, Africa brass trading beads and 10 mm genuine bloodstone beads. Bracelets are strung with durable stretchy elastic cord, making them easy to take on and off for daily wear.
***All gemstones are one of a kind. Pieces will always have slight variations in the stones that will be different from the picture. Comes with a cloth bag hand-stamped with Kazzy Stone logo.
SIZING
6 petites and teens
6.5 small women's
7 medium women's
7.5 large women's
8 x large women's / small men's
8.5 medium men's
If you measure your wrist, a safe bet is to order half an inch to an inch bigger than that measurement. You don't want your bracelet fitting too tightly. For example If your wrist measures a 6.5 order the 7 or 7.5. My wrist measures 7 and I like to wear 7.5 inches.
****** This listing is for one bracelet *******