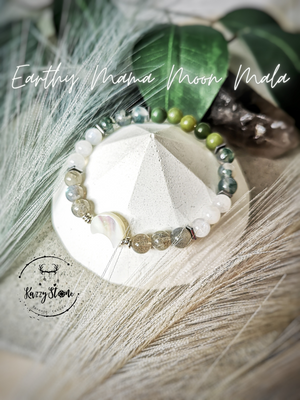 The Earthy Mama Moon Wrist Mala
As the time to plant our spring gardens draws near, I wanted to create a bracelet that would remind you of your divine connection to Mother earth. As you gaze down at your wrist, the beautiful green energy of Moss Agate and Canadian green Jade combined with moonstone and labradorite, cannot help but remind you of the earth's Life Force of birth, development, and creation, and of the power of nature's constant renewal.
***6mm stones
***High quality gemstones
***Accented with silver hematite and silver african metal trading beads
***Mother of Pearl Moon
𝗛𝗮𝗻𝗱 𝘀𝘁𝗿𝘂𝗻𝗴 𝗼𝗻 .𝟴𝗺𝗺 𝘀𝘁𝗿𝗼𝗻𝗴 𝘀𝘁𝗿𝗲𝘁𝗰𝗵 𝗰𝗼𝗿𝗱 𝗮𝗻𝗱 𝘁𝗶𝗲𝗱 𝘄𝗶𝘁𝗵 𝗮 𝘀𝘂𝗿𝗴𝗲𝗼𝗻'𝘀 𝗸𝗻𝗼𝘁, 𝘄𝗵𝗶𝗰𝗵 𝗶𝘀 𝗴𝗹𝘂𝗲𝗱 𝗮𝗻𝗱 𝗵𝗶𝗱𝗱𝗲𝗻 𝗶𝗻 𝗼𝗻𝗲 𝗼𝗳 𝘁𝗵𝗲 𝗯𝗲𝗮𝗱𝘀. 𝗕𝗿𝗮𝗰𝗲𝗹𝗲𝘁𝘀 𝗮𝗿𝗲 𝘀𝘁𝗿𝘂𝗻𝗴 𝘄𝗶𝘁𝗵 𝗱𝘂𝗿𝗮𝗯𝗹𝗲 𝘀𝘁𝗿𝗲𝘁𝗰𝗵𝘆 𝗲𝗹𝗮𝘀𝘁𝗶𝗰 𝗰𝗼𝗿𝗱, 𝗺𝗮𝗸𝗶𝗻𝗴 𝘁𝗵𝗲𝗺 𝗲𝗮𝘀𝘆 𝘁𝗼 𝘁𝗮𝗸𝗲 𝗼𝗻 𝗮𝗻𝗱 𝗼𝗳𝗳 𝗳𝗼𝗿 𝗱𝗮𝗶𝗹𝘆 𝘄𝗲𝗮𝗿.
𝗕𝗿𝗮𝗰𝗲𝗹𝗲𝘁𝘀 𝗰𝗼𝗺𝗲 𝘄𝗶𝘁𝗵 𝗮 𝗷𝗲𝘄𝗲𝗹𝗿𝘆 𝗯𝗮𝗴 𝗮𝗻𝗱 𝗮 𝗯𝗲𝗮𝘂𝘁𝗶𝗳𝘂𝗹 𝗴𝗲𝗺𝘀𝘁𝗼𝗻𝗲 𝗰𝗮𝗿𝗱 𝗮𝘀 𝘄𝗲𝗹𝗹 𝗮𝘀 𝗮 𝗱𝗲𝘀𝗰𝗿𝗶𝗽𝘁𝗶𝗼𝗻 𝗼𝗳 𝘁𝗵𝗲 𝗯𝗿𝗮𝗰𝗲𝗹𝗲𝘁'𝘀 𝗴𝗲𝗺𝘀𝘁𝗼𝗻𝗲 𝗽𝗿𝗼𝗽𝗲𝗿𝘁𝗶𝗲𝘀. 𝗣𝗲𝗿𝗳𝗲𝗰𝘁 𝗳𝗼𝗿 𝗴𝗶𝗳𝘁𝗶𝗻𝗴!
The beautiful Moss Agate is a translucent stone with green dendritic patterns that has a likeness to moss or little trees. It is a stone of growth and considered to be the best stone for gardening and agriculture. The patterns you see within this stone resemble growing plants and it is a stone that will help you grow in many ways.
Just like a long walk in a cool forest on a stifling summer day, Moss Agate is always ready to heal your heart and bring you back into balance. One glance at this stone and you truly feel like you are interacting with a living and breathing piece of mother nature herself. Swirling greens, abundant energy, and deeply cleansing vibes cut straight through any toxicity, leaving you feeling as though you are breathing deeply and connecting to every atom of your being.