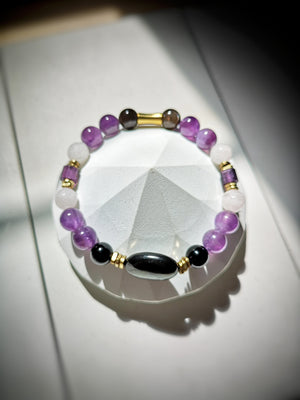 The Empath's Renew & Restore Bracelet
****Provides Protection to highly sensitive Empaths****It's time to take care of yourself for once! Rest and restore that beautiful aura while protecting yourself from unwanted negative energies
Are you a highly sensitive person? Do you have an uncanny ability to sense what people around you are thinking and feeling? Do you experience a great deal of empathy where you might take on the pain and stress of others?
You probably make an amazing friend to others; however you can become overwhelmed and burdened when you take on the problems of others. You may feel drained after spending time with loved ones and friends. You are an empath!
Being an empath can be both a blessing and a curse. As highly sensitive beings, empaths tend to absorb other people's energy, thoughts, and feelings without even realizing it. If you are an empath, you may have often felt that your mood takes a sudden plunge and you are extremely exhausted, anxious or stressed out after being around certain people or in situations involving huge crowds, loud noise, and/or a lot of communication with others.
That is why empaths need a lot of me-time to rest and recharge their batteries. As an empath myself, I can say that alone time is absolutely crucial for my mental and physical well-being. I have often felt completely fatigued even after a few hours at a social gathering.
That is why I know how important it is to protect yourself if you are an empath as well. There are several options to do that, such as setting boundaries with toxic people, avoiding large groups of people whenever possible, and spending plenty of time in nature. Another great way to cleanse, re-energize, and restore yourself is to work with crystals and stones. Their gentle healing properties and natural beauty are an amazing way to replenish your body and soul. Crystals/protective stones can be used to help block negative energies and keep the body safe from physically taking on that energy. They can also be used to cleanse the body of negative emotions taken on from those around you and welcome in peace and love.
That's where the Empath's Renew and Restore Bracelet comes in. It contains 6 genuine high quality gemstones that work together to help you balance and cleanse your emotions and block negative energies so you can continue to be that incredible friend or family member that you are!
Made with 6 different 6mm or 8mm high quality genuine gemstones: labradorite, shungite, black tourmaline, amethyst, rose quartz, fluorite & accented with African brass trading beads. All gemstones are A grade or higher. The shungite is exceptional quality and very hard to find these days!
Hand strung on .8mm strong stretch cord and tied with a surgeon's knot, which is glued and hidden in one of the beads. Bracelets are strung with durable stretchy elastic cord, making them easy to take on and off for daily wear.
Bracelets come with a jewelry bag and a beautiful gemstone card as well as a description of the bracelet's gemstone properties. Perfect for gifting!