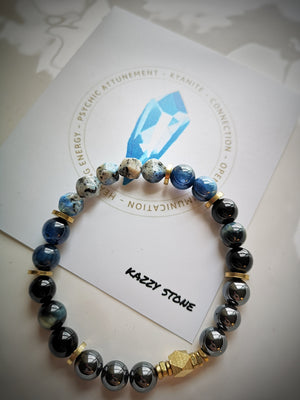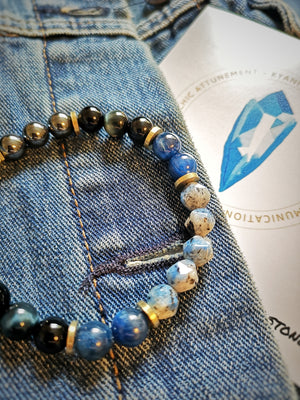 The High Vibrations Bracelet
Humming with high vibrations & free from gathering toxic energies, the High Vibrations Bracelet with Kyanite is all about the feelgood flow. This carefully chosen array of gemstones are particularly suited to work wonders on blockages, cleanse negative energies plus Kyanite is one of the most calming healing crystals you can wear!
It contains 5 genuine high quality gemstones that work together to balance your earthly experience with a higher consciousness, allowing you to go deep into the spirit world while being firmly grounded to the earth.
Made with 5 different 8mm high quality genuine gemstones: star cut K2, ***Multicolour faceted kyanite (Not necessarily blue like the first photo) , black onyx, blond and blue tiger's eye, & hematite. It is accented with unique brass trading beads. Design shown is 7.5 inches, so beads may have to be added or removed based on your size).
Hand strung on .8mm strong stretch cord and tied with a surgeon's knot, which is glued and hidden in one of the beads. Bracelets are strung with durable stretchy elastic cord, making them easy to take on and off for daily wear.
Bracelets come with a jewelry bag and a beautiful gemstone card as well as a description of the bracelet's gemstone properties. Perfect for gifting!
Shipping Information
Canada: untracked oversized lettermail, upgrades available at checkout
If you are in Ontario or Quebec I will refund you for shipping overages if you choose Xpresspost.
USA: fully tracked 3-7 days
Metaphysical Information:
Kyanite
Kyanite is an excellent stone for meditation and attunement. It is believed that Kyanite aligns all chakras and subtle bodies instantly. It provides balance of yin-yang energy and dispels blockages, moving energy gently through the physical body. Kyanite has a calming effect on the whole being, bringing tranquility.
K2
K2 is a unique stone mined from the snowy peaks of Pakistan's K2, the second highest mountain in the world. These rugged snowy peaks make mining difficult, which is why this special stone is extremely rare and hard to find.
It connects to the third eye and opens the highest levels of consciousness, allowing one to receive guidance from higher dimensions. This stone helps you control your emotions by centering and balancing your mind, body, and spirit. K2 promotes group harmony and deepens emotional ties with friends and family. It is named for the mountain foothills it was discovered on, which borders on Pakistan and China.
Onyx
Onyx is a stone that offers up powerful vibrations of protection, strength, focus, and willpower. This stone is here to continuously push you forward in your life. By activating your root, solar plexus, and third eye chakras, one is able to fully ground themselves to Earth. Not only will Onyx give you a jolt of energy to get up and start pursuing your dreams, but also protect you on your new journey.
Hematite
Hematite has very strong grounding energy; you can feel that just by holding the stone in your hand. It also has a cooling and calming effect, as well as helps develop concentration and focus. Overall, hematite brings a quality of energy that is powerful, strong, and grounding.
Blond and Blue Tiger's Eye
Tiger's eye brings wisdom, courage, protection, discernment, and the ability to see ahead.

Disclaimer: Metaphysical and Alternative Crystal Healing Powers and Properties are not to be taken as confirmed advice. Traditional, Ceremonial and Mythological Gemstone Lore is collected from various resources and does not represent the sole opinion of Kazzy Stone Canada. This information is not to replace the advice of your doctor. Should you have any medical conditions, please see a licensed medical practitioner. Kazzy Stone Canada does not guarantee any claims or statements of healing or astrological birthstone powers and cannot be held liable under any circumstances.
SIZING
6 petites and teens
6.5 small women's
7 medium women's
7.5 large women's
8 xl large women's / small men's
8.5 medium men's
If you measure your wrist, a safe bet is to order half an inch to an inch bigger than that measurement. You don't want your bracelet fitting too tightly. For example If your wrist measures a 6.5 order the 7 or 7.5. My wrist measures 7 and I like to wear 7.5 inches.
***This listing is for one bracelet