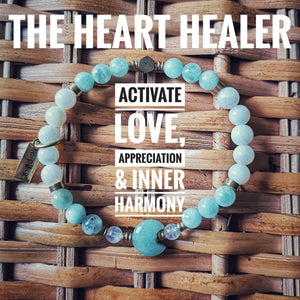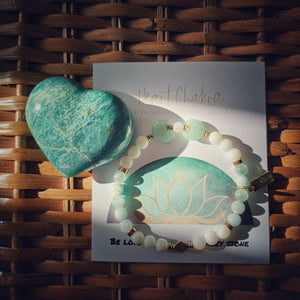 The Heart Healer: Activator of love, appreciation, and inner harmony.
The 'Heart Healer'. The stones in this bracelet are linked to Anahata, the Heart Chakra, the activator of love, appreciation, and inner harmony.
The Heart Chakra, green on the outside and pink on the inside, is a perfect metaphor to understand the energy of the stones that work to heal and protect the heart chakra.
The green acting as the outer shield protecting the soft, pink heart, our inner vulnerabilities. Green Aventurine's, Mother of Pearl's and Hemimorphite's energies allow us to connect with that inner state of joy and synchronize with nature's soothing rhythm.
Chakras play a role in the flow of energy in your body. Running from the base of your spine to the top of your head, the seven main chakras each correspond to specific nerve bundles and organs in your body.
When one or more of your chakras becomes blocked or unbalanced, it's thought to have an impact on your physical, mental, spiritual, and emotional health.
The heart chakra - the wellspring of love, warmth, compassion, and joy is located in the center of the chest at the heart level. It is the center of your deep bonds with other beings, your sense of caring and compassion, your feelings of self-love, altruism, generosity, kindness, and respect.
How can stones help to heal?
The answer lies in what is known scientifically as the piezoelectric effect. Think of how a quartz watch works. A tiny piece of quartz, when put under pressure, actually generates a constant voltage to keep a watch running with extraordinary precision.
This is the same effect that crystals have on the body. They put out a tiny charge or vibration which affects our biomagnetic energy field, creating balance. Just as each person has a unique energy field, each stone also has a unique vibration.
You can also wear jewelry made from the specific chakra stone that you need to help you balance. As you wear that piece of jewelry the stone will impart the energy that you require for healing.
The soothing green colour of green aventurine is used to treat imbalances of the heart chakra. It can bring an inner peace that will soothe and comfort you through difficult times and stressful interactions.
As you wear your Heart Healer Bracelet, throughout the day try practicing an affirmation. Affirmations are useful in making what you desire reality. Write down what you might want to express to others. Try an affirmation of gratitude: I am grateful. I am happy. I am blessed. I inhale love, exhale gratitude, and give thanks for all of my blessings.
The Heart Healer Bracelet is made with 6mm minty green hemimorphite, 6mm creamy mother of pearl, 2 10 mm green aventurine moon beads, a 5mm rainbow moonstone and brass trading beads to accent.
Hand strung on .8mm strong stretch cord and tied with a surgeon's knot, which is glued and hidden in one of the beads. Bracelets are strung with durable stretchy elastic cord, making them easy to take on and off for daily wear.
Bracelets come with a jewelry bag and a beautiful gemstone card as well as a description of the bracelet's gemstone properties. Perfect for gifting!
Metaphysical Information:
Aventurine stones have very soothing energy, which is highly beneficial to those suffering from anxiety, fear, or restlessness. It will help you feel more at home in your world. And it prevents the wandering eye that leads to a constant search for happiness that can never be fully fulfilled. It is also the perfect stone for healing discord and promoting harmony. 
Mother of Pearl, which is also known as nacre, is an iridescent layer of material that makes up the lining of many mollusks. Mother of Pearl is a potent protection stone. It will bring you the gentle healing power of the sea! Also, it will relieve you of your stress, and it will soothe, calm, and relax your emotions. 
Hemimorphite is a crystal that connects to the heart and communicates your emotions with a heart-centric awareness. The energies of this crystal will make you more considerate and sensitive to your partner's needs. You will rely on your instincts and with what you know about your partner to settle conflicts or prevent them from ever occurring. This crystal will soften your heart and dissolve the hard feelings so that you can forgive and move on. It will inspire you to let go of the unnecessary emotional baggage because the only one that's hurting is you! 
Rainbow moonstone can be extremely beneficial, especially for those of us who sometimes have difficulty effectively connecting with our emotions. The energy will fill you with joie de vivre and bliss during even difficult times and help fend off negative energies, while helping you attune to your emotions more effectively. The nurturing energy of this stone will give you comfort and guidance in difficult times.
SIZING
If you measure your wrist, a safe bet is to order half an inch to an inch bigger than that measurement.